Pokémon TCG: Scarlet & Violet - Paradox Rift Cetitan 3-Pack Blisters - EN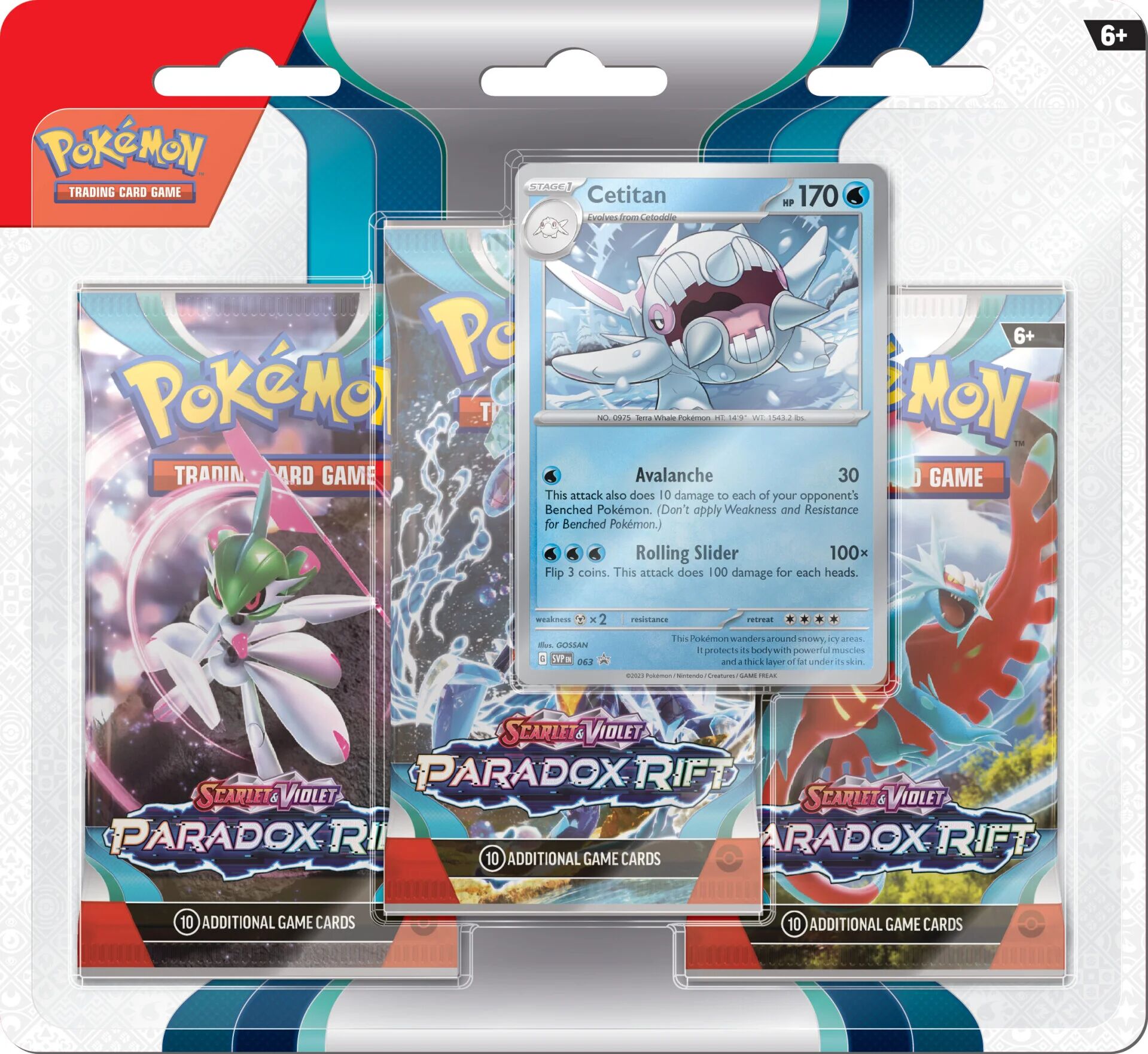 Sofort verfügbar, Lieferzeit 1-3 Tage
Pokémon TCG: Scarlet & Violet - Paradox Rift Cetitan 3-Pack Blisters - EN
Produktnummer:
A12374-CETITAN
Ab 149 CHF versandkostenfrei.
Du bestellst, wir liefern!
VIP-Mitglieder sammeln Punkte.
Produktinformationen "Pokémon TCG: Scarlet & Violet - Paradox Rift Cetitan 3-Pack Blisters - EN"
Uncover The Anomalies Of Area Zero!
Dive into the clouds and explore a land that appears to be unbound by time! With ferocious attacks, Ancient Pokémon like Roaring Moon ex and Sandy Shocks ex appear alongside artificial Future Pokémon like Iron Valiant ex and Iron Hands ex. Meanwhile, Garchomp ex, Mewtwo ex, and others Terastallize to gain new types, as Armarouge ex, Gholdengo ex, and more Pokémon ex join the fray. Adventure awaits as timelines collide in the Pokémon TCG: Scarlet & Violet—Paradox Rift expansion!
The Pokémon Company International also introduced several card design improvements that will be implemented starting with the Scarlet & Violet expansion. Yellow borders on Pokémon TCG cards will become gray to match the cards released in Japan, providing a more seamless Pokémon TCG experience around the world while allowing the card artwork to shine even further. In addition, subcategories for Trainer cards — such as Supporter, Item and Stadium — will appear in the top left corner to be more visible in players' hands, Basic Energy cards will display another Energy symbol on the bottom right corner to make it easier to track during gameplay, and expansion symbols will be replaced by expansion codes and language codes across all cards.
| | |
| --- | --- |
| Box Typ: | Booster Pack |
| Brand: | Pokémon |
| Expansion: | Scarlet & Vilet SV04 - Paradox Rift |
| Sprache: | Englisch |
| Zustand: | Neu |